GTM won the honor of "high-tech enterprise certificate"
01-03-2023
GTM Obtained the high-tech enterprise certificate.
Good news!
GTM Glass Machinery Co., Ltd Recognized as a high-tech enterprise!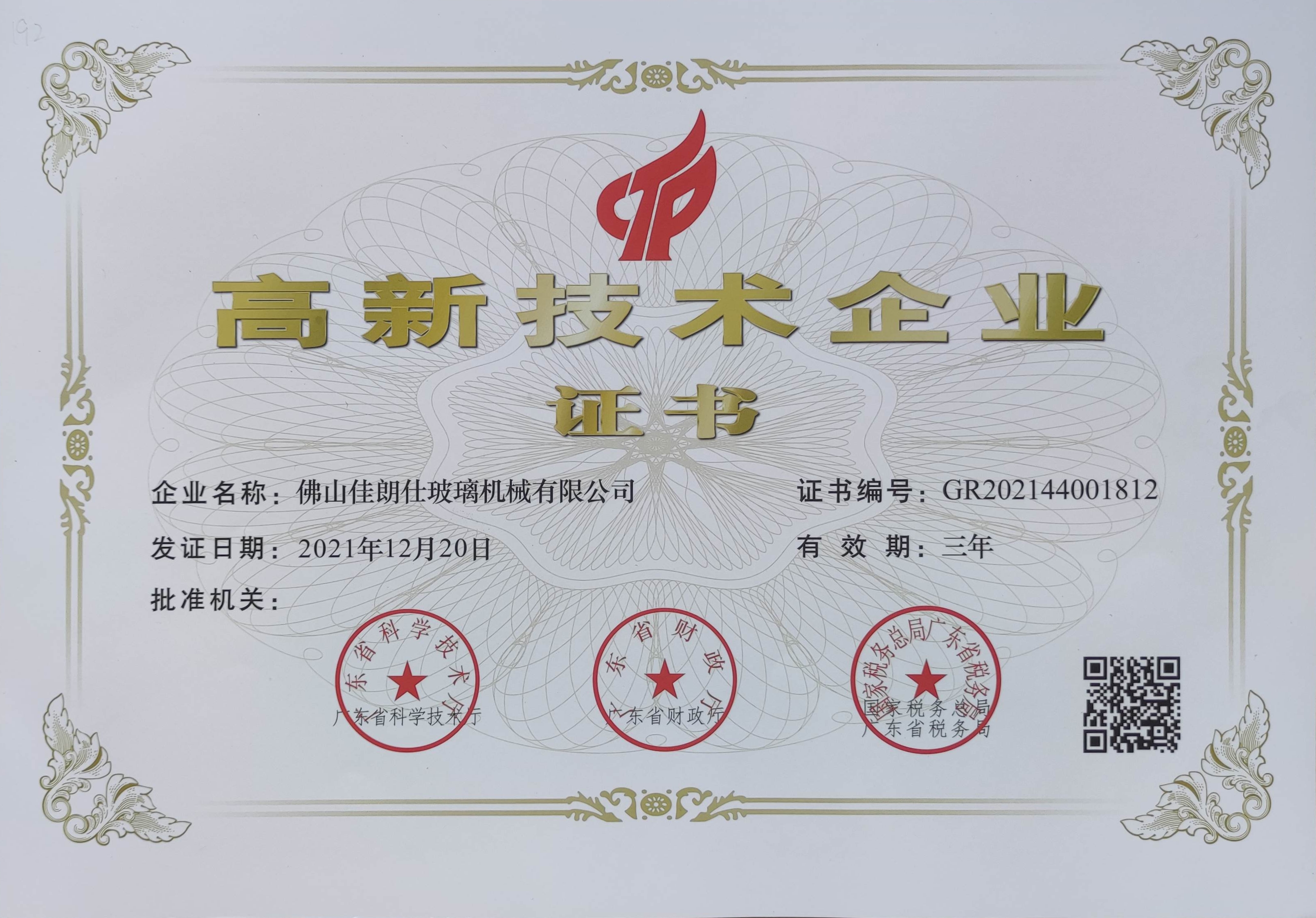 Recently, GTM Glass Machinery Co., Ltd. was awarded the "high-tech enterprise" certificate jointly issued by the Department of Science and Technology of Guangdong Province, the Department of Finance of Guangdong Province and the Guangdong Provincial Taxation Bureau of the State Administration of Taxation, and officially entered the ranks of high-tech enterprises!
High-tech enterprises are the special qualifications established by the state to support and encourage the development of high-tech enterprises, adjust the industrial structure and enhance the national economic competitiveness, which are of high value.
The evaluation conditions for the recognition of high-tech enterprises are very strict. Selected enterprises must be engaged in strategic emerging industries supported by the state, and meet relevant standards in terms of core technology must have independent intellectual property rights, products or services that belong to the scope of high-tech fields, the ability to transfer scientific and technological achievements, R&D investment, the proportion of scientific and technological talents, and growth indicators. Our company won the title of high-tech enterprise this time, which is the support and affirmation of the development achievements of GTM Glass Machinery Co., Ltd. since its establishment, and the concern and support of customers and people from all walks of life for GTM Glass Machinery Co., Ltd.
As a high-tech enterprise, our company will pay more attention to technological innovation, management innovation, service innovation, rely on high-tech and continue to innovate in the future work, so as to further enhance the core competitiveness of the enterprise market and create more brilliance!
GTM GLASS MACHINERY CO., LTD. is a professional manufacturer of glass processing equipment. Now it has developed into a company with R&D, manufacturing, after-sales service, and independent import and export.
GTM mainly develops and manufactures high quality glass processing equipment, and it had developed a number of patent products. In 2021, GTM Obtained the high-tech enterprise certificate. It is a benchmark enterprise in the glass processing equipment industry. With 20 years of glass machinery research and development and manufacturing experience, our company's elite team has established a good reputation in the industry.
GTM has a strong quality control system, as well as a strict process of controlling R&D, production, and distribution to ensure that our products are excellent. The company's high-quality products and perfect after-sales service have acquired a great reputation around the world.
GTM GLASS MACHINERY CO., LTD. founded in 2014, is located in the most important town for glass machinery in China-Lunjiao Town. GTM's philosophy is "Be Professional and Dedicated". Both our product research and development and personnel skills are aligned with this guiding principle so that we can create a greater value for our customers.
GTM provides series of glass machines such as glass drilling machine, CNC glass drilling & milling machine, glass double edger line, glass edging machine, glass mitering machine, glass pencil edging machine, glass beveling machine, glass washing machine, glass sandblasting machine, glass shape edging machine, glass sand belt grinding machine, glass breaking table, etc.
Please feel free to contact us for further information. We'll be at your service right away.